Creatiive Camp
Creatiive Kiids Art Camps are half-day opportunities designed for children to express themselves and have fun in a judgement-free, exploratory environment. Our teachers encourage children to expand their artistic vision through our intentional teaching style and conscientious choices in art materials. We support artists in their own art-making decisions, which we've seen build confidence and lead to emotional and interpersonal learning that benefits them throughout their lives. We are thrilled to be a part of your child's art education & growth!
Enrolling in camp? Complete your signup below:
Interested in hosting a camp?
Start by filling out the inquiry form below
How it works
Age Requirement

Creatiive Kiids Art Camps are for ages 5 & up. All children in camp must to be within 1 year of age from youngest to oldest.
Camp Times & Location

Typically, camp is 9am-12pm or 9am-1pm, but we are often able to accommodate a different start time. We travel all over LA for camp, and will work with you to find the best time based on our teachers' current schedules. Camps are typically within 10 miles from our headquarters in Sherman Oaks.
Camp Capacity

Depending on available host space, camp capacity is 6 kids at the minimum, and typically 9 kids at the maximum. We are often able to accommodate a smaller or larger group, so please ask if this applies to you.
Camp Duration

Creatiive Kiids Art Camp can be 3 or 4 hours long. Your teachers will arrive 45-60 minutes early to set up, and stay 30-45 minutes after camp to clean up.
Day vs. Week

Art camps may be scheduled for any number of days, as long as we have availability! Most commonly, we book single day camps, or week-long camps ("week-long" generally refers to Monday-Thursday, but let us know if you want to extend)
Curriculum

Our teachers are always developing new projects! Kids may use & learn many new skills, including but not limited to collaging, building, sculpting, painting, drawing, beading, and so much more. We plan developmentally appropriate activities based on your group's age range, and make sure we're bringing new, awesome materials and tools for the kids to use & explore.
Pricing

3 hour camp: $155/child/day*

4 hour camp: $195/child/day*

Full payment is due before first camp day

*as long as there are at least 6 children enrolled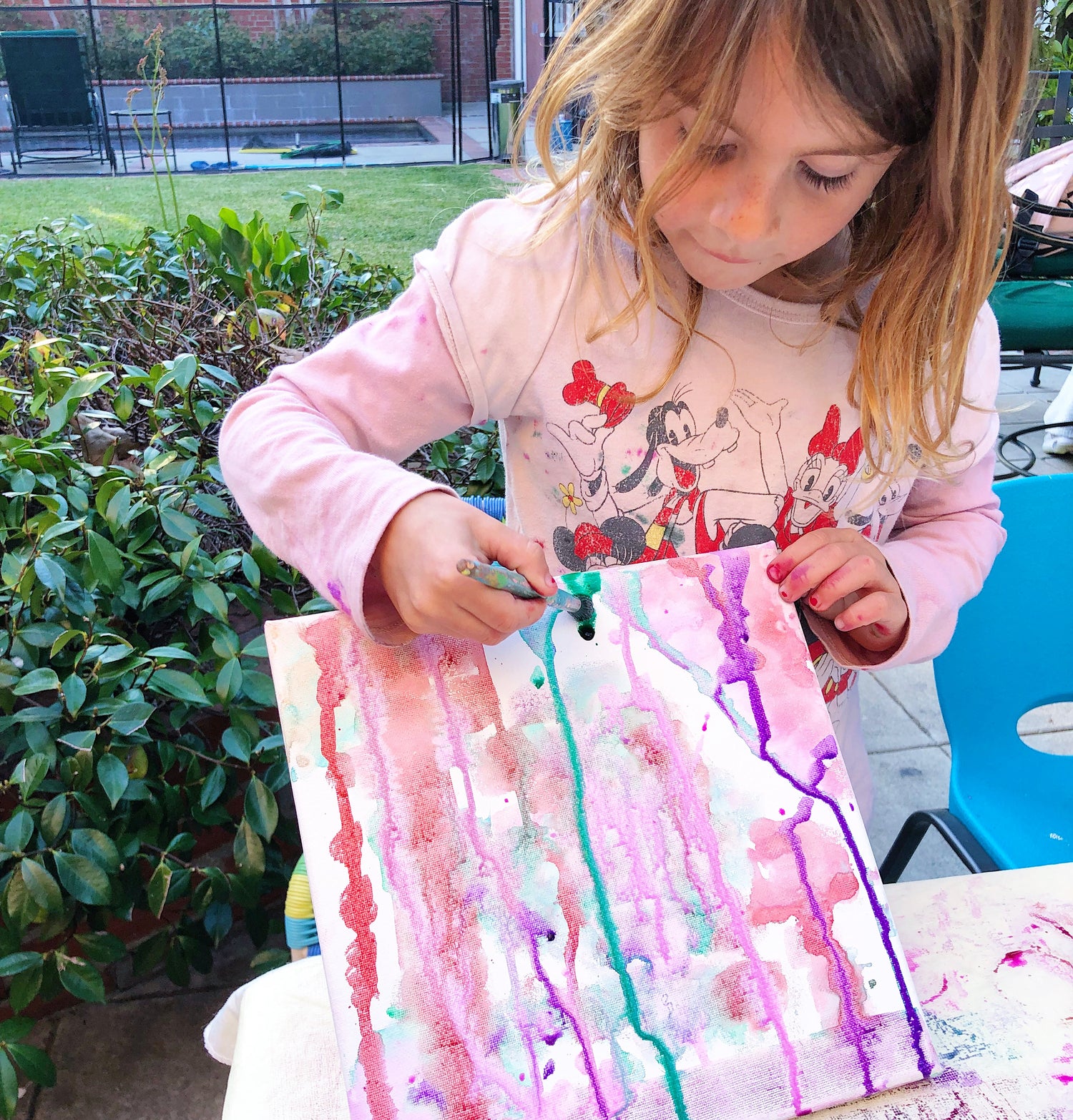 We Love Our Camp Hosts!
Being a camp host means offering your home space for camp to be held on the days you choose. Hosts are in charge of organizing their camp group, and are in close communication with the Camp Coordinator and teacher about any changes or updates.
Before camp, we'll just need to know that you have:
An outdoor, shady space that's ok to get messy
At minimum, a 6' table with ample kid-friendly seating that's ok to get messy
Access to a hose or other water source
Access to a bathroom for kids and/or teachers
Host (or other caretaker) must be available and on-site for the duration of camp
Get Started
Join our Community
Follow along so you don't miss a thing!